You can set the time on your Mitel 3300 in one of two ways.
Via the Group Administration Tool
We'll cover both here.
Option 1
Setting the Time via the System Admin Tool
After you first log into your PBX you should see a screen that looks similar to the screen shot below. Select the "Group Administration Tool" button.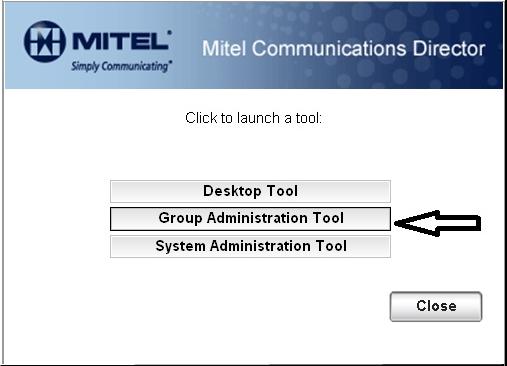 The first screen that option available is for changing the date and time on your PBX. Select it and you will be presented with the date and time management screen. Modify your settings to match the current date and time. In the US there is a website to help you set the current date and time: www.time.gov. Once the time is set, the telephones will update their time displays automatically.
Note: it is not uncommon for telephones to be "slightly off" on the time displayed.
If your system is programmed to use an NTP server (Network Time Protocol Server) you will be told that that you cannot change time if NTP Synchronization is enabled. (See Screen shot below.) If this is the case then you will need to follow option 2 of this document.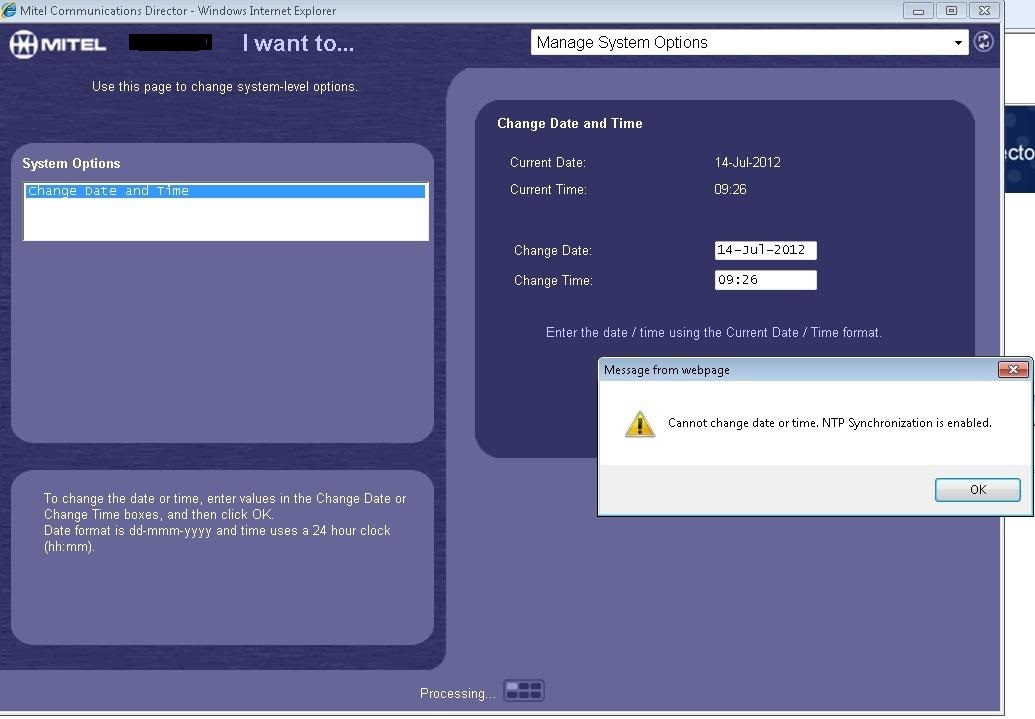 Option 2
How To Set Time via a NTP Server
Starting with version MCD 4.0 you have the ability to program your Mitel 3300 to use an NTP server. NTP stands for Network Time Protocol. This is a special protocol to synchronize time among servers. Your company may have a NTP server of it's own or you may use one of the publicly available NTP servers.
After logging into your system, select the "System Administration Tool" rather than the "Group Administration Tool" as displayed in the screen shot earlier in this document. From there you can browse to "System Properties" then "System Settings" then "Date and Time". You can also use the drop down box in the upper left corner to select "View Alphabetically and then select "Date and Time".

Next click the "Change" Button.
Click the Radial button for "Enable".
Enter the NTP server you wish to use.
Set your Time Zone and click "Save"
The correct date and time should now be displayed .
If your company does not have an available Time Server, there are some publicly available servers.
www.ntp.org is an example of available servers. www.ntp.org uses hundreds of "volunteered" time servers. Companies or individuals with time servers will allow their servers to be publicly available. Since these are volunteered servers sometimes these servers will go off line and you may receive an error in your logs. ntp.org does a pretty good job of removing off line servers from their pools but be aware that you may have an occasional error when using them.
When you use pool.ntp.org as your time server, the system attempts to connect you to a server that is geographically close to you. You can narrow that down a bit by using us.pool.ntp.org. There is a listing of pools listed geographically that can be found here: http://support.ntp.org/bin/view/Servers/NTPPoolServers
Here are some additional time servers available for public use:
time-a.nist.gov (129.6.15.28)
time-b.nist.gov (129.6.15.29)
time.windows.com (207.46.232.182)
ntp.asql.co.uk (82.68.206.125)
chronos.csr.net (194.35.252.5)
time.nist.gov (192.43.244.18)
time1.google.com
time2.google.com
time3.google.com
time4.google.com
Note: Your system must be able to reach the public NTP servers. If you receive an error when trying to reach your selected NTP server:
1st double check the server name, IP address or NTP pool name is correct.

If using using a FQDN then you must have a DNS server programmed in your system's IP address settings.

It is possible that your company's firewall does not allow NTP request. See your firewall administrator to have this corrected.
You can verify your system is synchronizing properly in your maintenance logs. See the screen shot below for an example.

Click Here For the Mitel Forum
Related Forum Post
---
Please join our forum and follow our newsletter. Your participation may help others.
If you've found this article useful please